Hi Nikola.
I am a massage therapist from Ljubljana, Slovenia this is my page http://www.marre.si. I built this page by my self, with help of youtube and some friends that are more into WordPress. I just follow the instructions eventhough I don't understand everything. 
I don't know why my google callendar doesn't want to sinc with EA when I make a booking in it? Does it have anything to do with "Chron job"? Or maybe with some settings inside "Conect BETA"? I have managed to set up chron job as instructed under FAQ. There were no errors, but no result. I don't know what am I doing wrong.
See below my settings.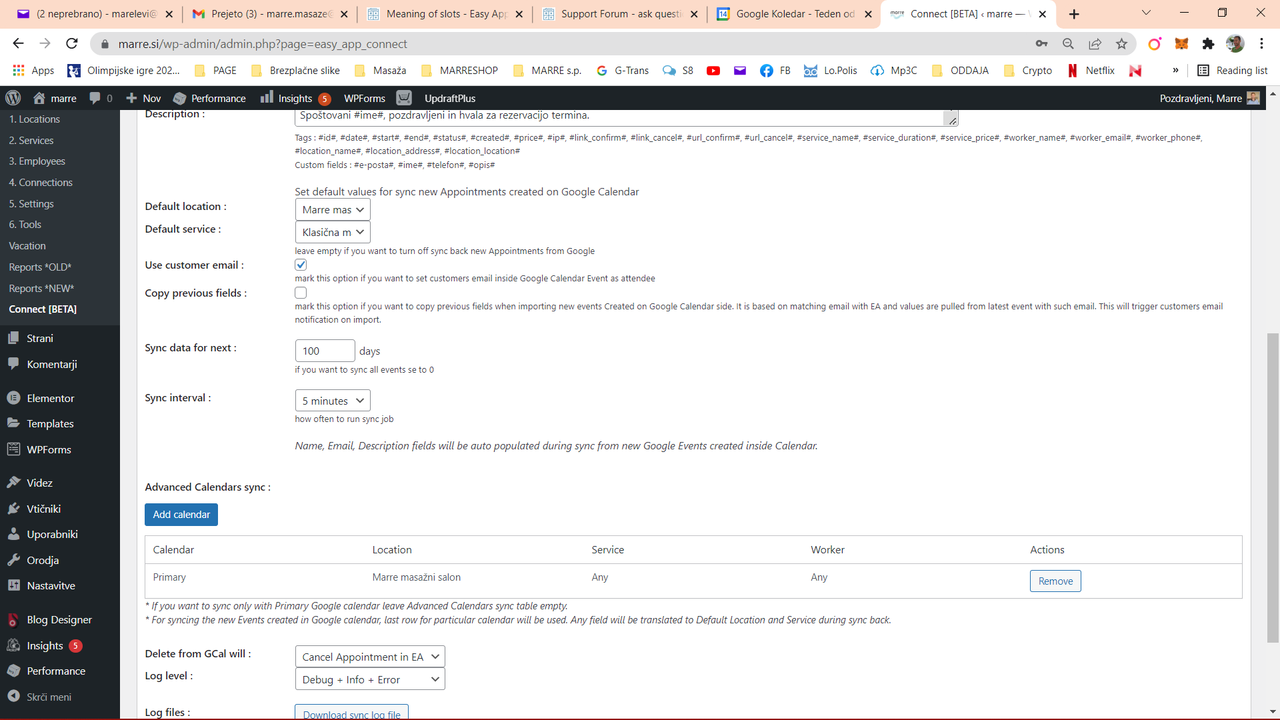 I also don't know what is the meaning of Default location and Default service
Default location :
                         
–
Marre masažni salon
Default service :
–
Refleksna masaža stopal 60′
Masažna terapija z ventuzami (cupping) 20′ 
Magnetna terapija
Manualna Limfna Drenaža 90′
Manualna Limfna drenaža 70′
Manualna limfna drenaža 50′
Klasična masaža 90′
Športna regeneracijska masaža 60′
Delna klasična masaža 30′
Klasična masaža 60′
I can give you the access to my page, if it would be easier for you to check all the settings.
Thank you for your help.
Mare
I'm also having this exact same problem. Bookings made in easy appointments show up in Google Calendar, but bookings made in Google Calendar don't show up in easy appointments.
If this can't be sorted I'm afraid I might have to ask for a refund for the paid extension to the plugin, which is currently next to useless to me.